DANCES WITH SMOKE BARBEQUE
Competition Tested BBQ & Grilling Spice Rubs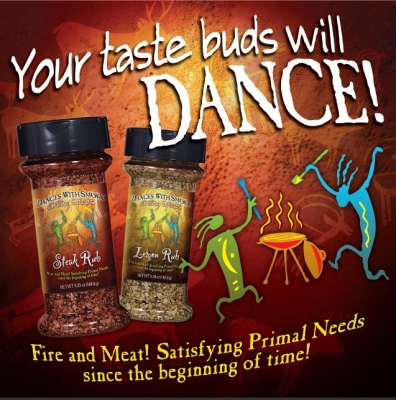 GRILLING SPICE RUBS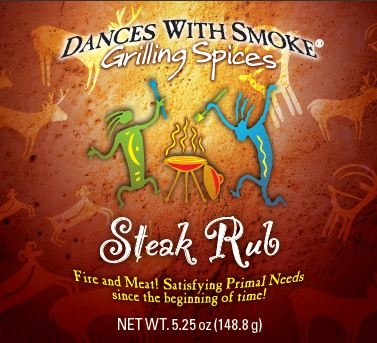 Steak Rub: 
A BBQ Judge once said that people forget that a nice piece of beef just needs a "good dose of salt and pepper."  I certainly agree with that statement, however I also love garlic and a few other spices to round out the salt and pepper.  I also like a small hint of "heat" from the addition of cayenne.  This rub recipe is used for the base of my award winning beef brisket rub, and it great on Prime Rib Roasts and hamburgers.  Some of my friends put it on everything, including their morning eggs.  
This rub does not have sugar added.  That is an issue for more and more people.  It also does not contain MSG.
The moral of the story is that you don't need 20 ingredients to make a great steak.
Price:  $6.00 each 
---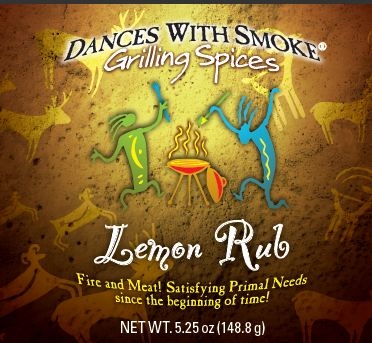 Lemon Rub:
This is a wonderful "all purpose" spice rub.  It can be used on pork loins, poultry, seafood, and grilled vegetables.  I particularly like it on beef tri-tip roasts.  Tri-tip is often a category in one-day bbq competitions.  This rub has won many first place finishes, along with other top awards.  It starts with a solid lemon-pepper base and adds more pepper,  plus salt, garlic and other spices.  The lemon becomes a subtle favor.  Once you try it, you will find other things to shake it on.  See the grilled Asparagus recipe below!
It does not contain MSG.
Price:  $6.00 each
---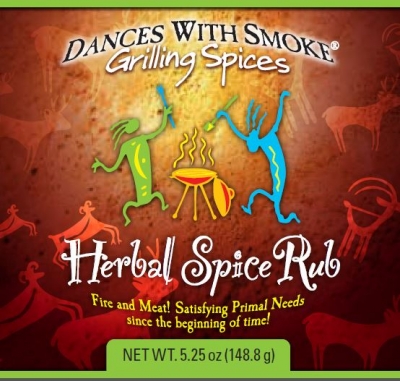 Herbal Spice Rub:
This is a great "new' Dances With Smoke rub.  Use it use on chicken, pork tenderloins, lamb, and/or roasted vegitables.  It is a nice blend of spices including rosemary and thyme.  You will not be disappointed.
It does not contain MSG and is Gluten free.
Price:  $6.00 each
---
BARBEQUE SPICE RUBS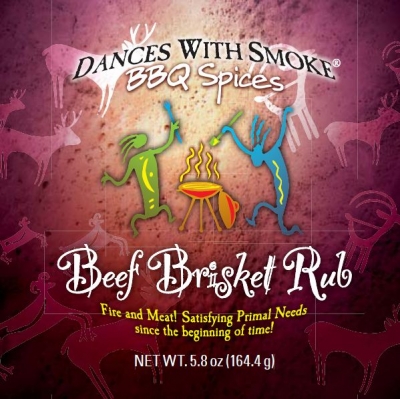 Beef Brisket Rub:
There is nothing better than a great smoked beef brisket.  This is the perfect rub for it.  It is the same rub I used on the brisket that placed 6th at the Jack Daniels World Invitational BBQ Championship, and has gained many 1st place finishes over the years.
It does not contain MSG and is Gluten free.
Price:  $6.00 each
---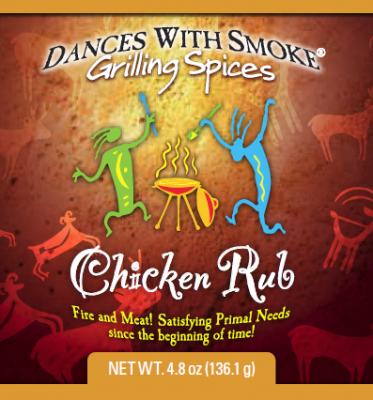 Chicken Rub:
This is a chicken rub that I have been developing for several  years.   The last two years it has done really well on the barbecue competition circuit.  In addition to using it on chicken, it really works well on fish such as salmon and halibut.
It does not contain MSG and is Gluten free.
 Price:  $6.00 each
---
Pork Rub:
This spice rub is used on our pork ribs and pork shoulders (butt) in competitions.  Combined with a little smoke flavor from a good bbq, and a little sause, and you have great pork barbecue!  Your family will really enjoy this.
It does not contain MSG and is Gluten free.
Price:  $6.00 each
---
Retail Locations
Dances With Smoke Spice Rubs are currently available at the following Retail Stores:
Washington
Auburn:
     Green Valley Meats
Bellevue:
     Golden Steer Choice Meats
Burien:
     B & E Meats and Seafood
Des Moines:
     B & E Meats and Seafood
Edmonds:
     Bill the Butcher
Issaquah:
     Fischer Meats
Lynden:
     Gary's BBQ Supplies
Maple Valley:
     Shawn's Quality Meats
Mountlake Terrace:
     Double DD Meats
Newcastle:
     B & E Meats and Seafood
Puyallup:
     Butcher Boys Beef Outlet
Renton:
     Shawn & Ted's Quality Meats
Redmond:
     Bill the Butcher
Seattle:
     Bill the Butcher (Laurelhurst)  
     Bill the Butcher (Magnolia)
     Bill the Butcher (Wallingford)
     Meat the Live Butcher (White Center)
 Wenatchee:
     Mike's Meats & Seafood, Wenatchee, WA
Woodinville:
     Bill the Butcher
Montana 
Billings:
     Perfect 10
---
BBQ Cooking Classes
Do you have a group of 10 or more friends that want to spend a fun day learning how to cook traditional "low and slow" southern barbecue?  Dances With Smoke offers full day "hands-on" classes.  Students will learn to cook beef brisket, pork shoulder butt, pork ribs, chicken, beef tri-tip and making sausage.  Students also learn the basic of creating a bbq spice rub.  For more information contact us at: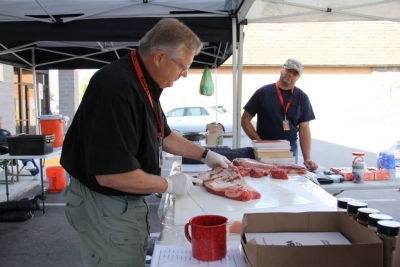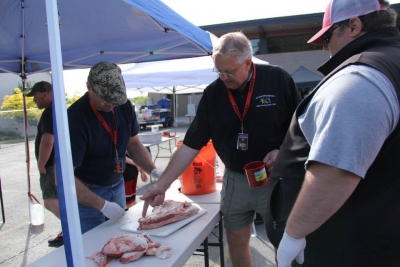 Student Comments:
Thanks for the great class on Sunday, Mar, 24 2013. My pit-mates and I had a great time. We learned a lot about the meat and some of the more popular cuts, spices, sauces and the most important part, BBQ. All the te...ams were great and we had a good time meeting new pit-masters and learning from them too.

This class was really useful for anyone, whether a person just wants to be the local backyard pit-master, competitions, or even for future restaurateurs. Everyone that attended left with more BBQ knowledge than they showed up with and I have a new tradition at 10:00 am every time I fire up the smoker.

Thanks again, I will recommend this class to everyone that is interested in making great BBQ.

Dave T.
DD&J BBQ 
Everett, WA
---
Recipes
Grilled or Roasted Asparagus
1   Bunch of Asparagus (about 1 pound)
1   Tbls   Lemon Rub
1   Tbls   Olive Oil
Mix together Lemon Rub and olive oil.  Place asparagus in plastic bag, pour mixture in and shack well.  Let sit for at least 15 minutes.  Heat grill and/or oven to high (approx. 400 degress).  Grill or roast asparagus - about 15 minutes.  Enjoy.
Marinated Grilled Chicken Breasts
1/2 Cup   Olive Oil
1/4 Cup   White Balsomic Vinegar
1 Tbls      Lemon Rub
2 to 4      Boneless Skinless Chicken Breasts
Mix oil, vinegar and rub together.  Place chicken breasts in large plastic bag and them pour in the mixture.  Shake well.  Place in refrigerator and let marinate overnight.  Grill over medium high heat until internal tempurature reaches 165 degrees at the thickest part.
Grilled Beef Tri-Tip Roast
 Remove excess fat from both sides of the beef tri-tip roast.  Sprinkle both sides with a heavy coating of Lemon Rub (or Steak Rub).  Press rub into the meat.  Please tri-tip into a plastic bag or wrap with plastic wrap.  Place into the refrigerator and let sit for at least 2 hours.  About 30 minutes prior to grilling, pull from refrigerator and place on counter to allow it to come to room tempurature.  Set up and start the grill so that the fire (high) is on one side only.  Grill both sides of the meat until each as a good sear on it.  Then move the tri-tip to the side of the grill that does not have the fire and close the lid of the grill.  Check the tri-tip frequently until the internal tempurature at the thickest part of the meat has reached an internal tempurature of 138 to 140 degrees.  Pull and immediately wrap in two layers of foil.  Set aside for about 25 minutes.
Unwrap the foil being careful to save the juices that have collected at the bottom.  Slice the tri-tip in thin slices across the grain.  The meat should still be pink in the middle.  Place slices in the juices and coat well.  Serve.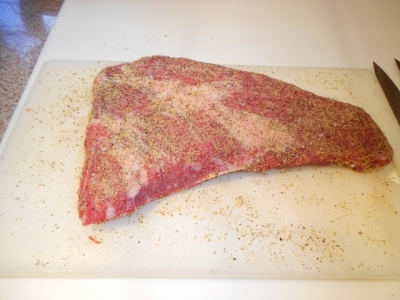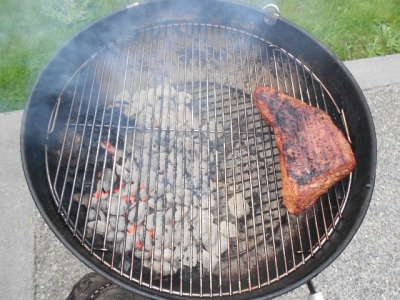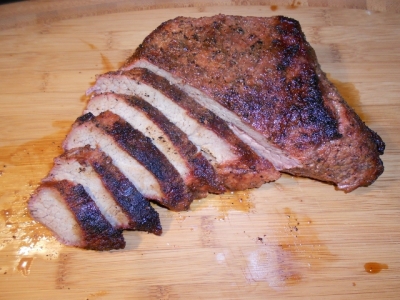 Fire and Meat!
Satisfying primal needs since
the beginning of time!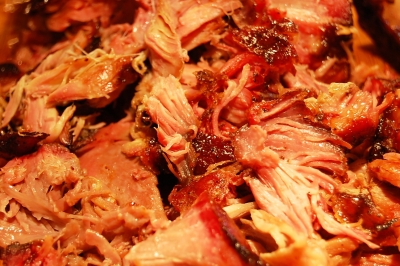 Smoked Pork Shoulder with DWS Pork Rub.
Customer Comments
"I bought a bottle (Steak) at the ACM Expo and my husband and I LOVE it.  I have not grilled without since."
April R., Omaha, NE
"Dances With Smoke Pork Rub helped me on the way to 1st Place Pork at the Cascade Country Cookoff. Just saying..."
Saffron H., Redmond, WA
"When I first tried this Lemon Rub I was blown away - WOW, Mmmm, absolutely par non fantastic!  I had it on Tri Tip and then on Chicken it was absolutely amazing.  I like it so much I bought a whole case and give it to my friends here in Canada.  Having a spice in my pantry that my neighbor doesn't have, is like winning the poker game before the cards are dealt, it is a really comforting feeling."
Kevin P., Mission, B.C.
After winning her first Grand Championship at a major State Championship BBQ Competition:  "...thanks Tom Wallin as my pork and brisket mentor & Dances With Smoke BBQ & Grilling Spice Rubs for the great rubs for the brisket and pork!"
S. Hodgson, The Bush Kitchen BBQ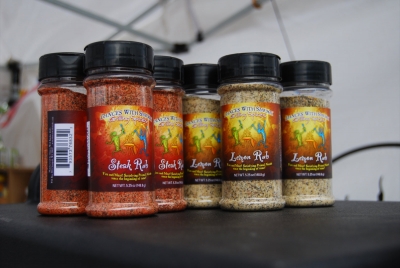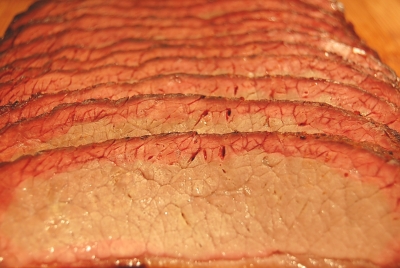 Smoked Beef Brisket.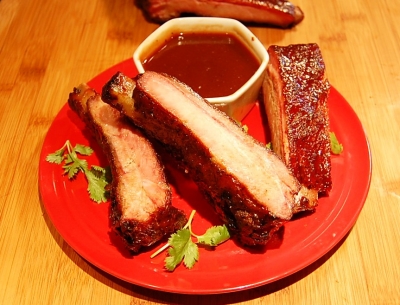 Smoked Pork Spare Ribs.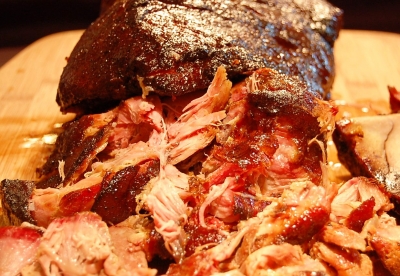 Smoked Pork Butt.
Use of Spice Rubs:
Spice Rubs should be sprinkled liberally over all sides of the piece of meat.  The spices should then be pressed into the meat.  Try to do this several hours before cooking.  The meat should then be wrapped in plastic and placed into the refrigerator.  For best results, remove from the refrigerator about 30 minutes prior to cooking and leave on the kitchen counter to warm to room temperature.  This allows the pores of the meat to open up allowing the spices to penetrate deeper into the meat.


  Become our fan on Facebook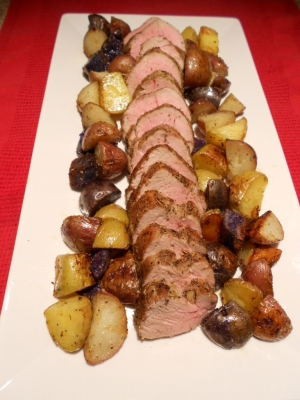 Pork Tenderloin  and Potatoes seasoned with Herbal Spice Rub.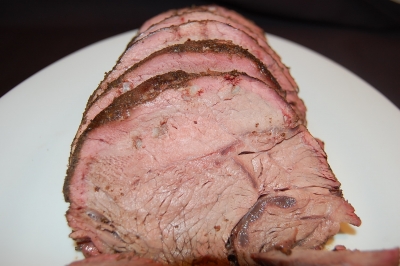 Smoked Beef Top Serloin with Herbal Spice Rub.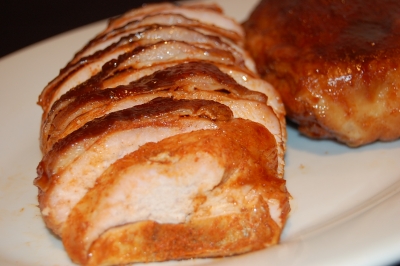 Smoked Turkey Breast.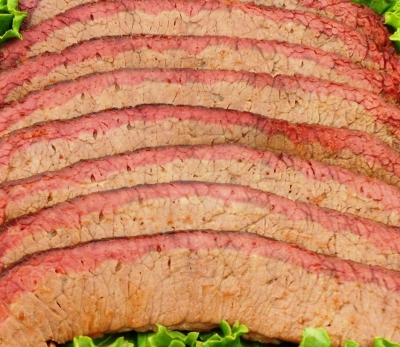 Smoked Beef Brisket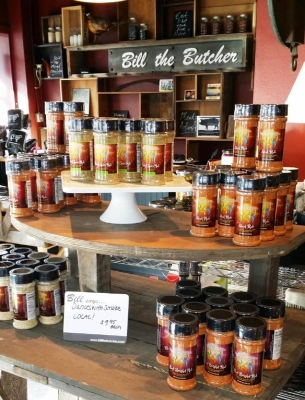 Bill The Butcher Store